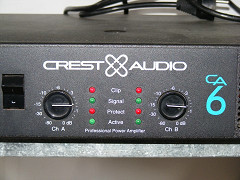 Photo by Public Domain Photos
The description of an amplifier is familiar to those who work with systems or instruments that generate and reproduce sound. Whether it's a television Cereal, a blend of old and new - Today we interview Jaques Smit, an incredible man. Just read all his current positions: Managing Director at MindNova Advertising Pty (Ltd), Marketing Director at Inland Kitesurfing Pty (Ltd), CEO at Avonstorm Entertainment, Producer at Avonstorm Pictures Pty (Ltd), Technical Director at Blo-Tant Pty (Ltd). Here is the interview and I initially ask about Cereal, his… set, compact disc player, radio, sound system, or a musical instrument like a classical guitar, people understand that an amplifier is crucial for their operation. Whenever a device is designed to maximize the loudness of sound, the installation of an amplifier is essential.
It is impossible to enumerate all the range of technological products, equipment, or systems where amplifiers are utilized. For example, even small devices like hearing aids and smartphones can be connected to numerous devices that utilize a particular type of amplifier. Amplifiers for car audio systems or home sound systems are particularly popular due to their widespread use.
Amplifiers are designed to increase the volume of sound output, and when it comes to musical instruments or systems, people's awareness is more extensive compared to other applications. The average user understands that a sound amplifier is an electronic New Album - Lost Island - I'm excited to announce the release of my latest Trance music album, "Lost Island". It's now available on various digital outlets worldwide, so you can easily find it by doing a quick search on any search engine! But if you're short on time and don't want to go through the hassle of searching, browsing, and… device that can amplify the volume of sound. Amplifiers used in musical instruments such as electric guitars are known as instrument amps. They are commonly used for electric pianos or electric bass Learning to Enjoy Bass Guitar - Do you enjoy bass guitar? A bass guitar is a four-stringed instrument that typically accompanies a lead guitar. Some bass guitars have additional strings, with 5 or 6 strings in total. Bass guitars produce lower tones, and an electric bass guitar is connected to an amplifier for enhanced sound. When learning to play the bass… guitars. In addition to guitars, they are also utilized in home stereo systems and live entertainment setups.
Furthermore, there are various specialized applications for amplifiers in different instruments. For instance, guitar amplifiers for rock music A Finnish music story - Musician Matti Mattila wrote his story for us, a Finnish music story! Please read also his Finnish blog and check his page at LinkedIn. I named this article "A Finnish music story" because through Matti words we can know an exclusive tale about late 70's and 80's of Finnish music. Of course the personal thoughts… may have pre-amplification settings, distortion Ibanez Electric Guitars - by mcmrbt Ibanez electric guitars are among the most renowned instruments in the market. Their popularity spans the globe, not only for their exceptional sound quality but also for the ease with which they can be played. Electric guitars require amplification due to the typically weak signal that cannot be captured by a standard loudspeaker.… controls, and tone filters. Keyboard amplifiers possess specific features and are used in various other contexts as well. Many modern musical instruments come with built-in amplifiers, while others require external amplification.
The quality, size, capacity, and power of amplifiers can vary depending on the intended purpose. Not all individuals who use or perform with musical instruments may be familiar with the technical details of different applications. Amplifiers for cars or theaters require specific specifications and features tailored to their unique requirements. While consumers understand the importance of the device, determining the best options for specific cases may require expert advice.
It is advisable to seek the assistance of technicians or sound engineers in such situations. The power output of the speaker and the amplifier should be compatible. Using an amplifier with too little power or excessive power can lead to risks. Applying excessive power to an amplifier beyond what the car speakers can handle may cause them to blow out.
Customers are therefore advised to exercise caution when purchasing amplifiers. There are reputable websites that offer amplifiers and related equipment. Power amplifiers for public address systems, high-wattage integrated stereo amplifiers for surround sound systems, guitar tube amplifiers, and single-channel studio amplifiers are among the major categories available in the market. All acoustic amplifiers are designed to produce enhanced sound without distortions or interference.
Manuel Marino is a seasoned Senior Producer, Music Composer, and Artist with over a decade of experience. He specializes in branded entertainment across various mediums, including video games, films, and advertising campaigns. With 20+ years as a game music composer, Manuel has worked on numerous platforms, creating diverse orchestral soundtracks. HIRE ME