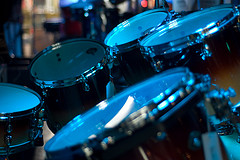 Photo by Sunfrog1
Drumming is an incredibly fun, challenging, and rewarding instrument to play. While it may be underrated compared to the guitar, the drum serves as the anchor of every musical genre, setting the beat and laying the foundation for great melodies. If you're considering drumming and looking to purchase your first drum set, it's important to take the time to research different brands and models. With a wide range of drum sets available, it can be a bit overwhelming to choose the right one. However, it's crucial not to skimp on your choice, as you'll have these drums for a long time and they should be able to accompany you from beginner stages to expert play. Here are some of the best name brands you should consider for your upcoming purchase:
Pearl: Pearl is an extremely popular drum brand that consistently offers great products year after year. The company has managed to stay at the forefront of the music industry Marketing and Music: Any Song Can Become Famous? - Today let's dive into a topic that's been buzzing around a lot: the relationship between marketing and music. We all know that marketing plays a massive role in the music industry, but does it actually hold the power to make any track a hit? Or does talent still stand a chance? First off, let's address… by consistently producing innovative, top-quality products made from the finest materials. Whether you're a novice drummer, producer, sound engineer, or professional musician What Is A Musician? - For some individuals, the role of a musician may be difficult to comprehend. They may struggle to understand: 1 - the nature of a musician's talent or job, 2 - why musicians work around the clock, and 3 - the concept of a fanbase and the boundaries musicians set with fans. Let's delve into each… , Pearl understands what musicians need. They stay ahead of the curve by utilizing the latest and greatest technologies and by creating fully custom, handmade drums. One excellent model to consider is the Masterworks, where each drum component is made to order, allowing you to get exactly what you desire and need from your drum set.
Tama: Tama has been manufacturing drums and drum sets for over fifty years. Throughout that time, the company has continually updated their products with the best and latest advancements. Each drum component is carefully crafted and designed to provide a set that not only sounds extraordinary but also looks fantastic and can stand the test of time. This makes Tama drums perfect for those who want to play onstage in a band and stand out in a positive way. The Silverstar is an impressive set to explore, offering the sound quality you'd expect from much more expensive drums at a fraction of the cost. It's ideal for creative, forward-thinking musicians, with features like 100% birch shells, triple flanged hoops, a streamlined Star-Mount system, and a slidable tom holder.
Premier: Premier is another long-standing company that has been perfecting their craft for years. Founded by a drummer who felt he could improve upon existing models, Premier started as a small basement shop and grew into a large global brand. What sets Premier apart is their commitment to understanding what musicians want and consistently delivering on their customers' needs. They only use the best materials available and give meticulous attention to detail in every product. If you're looking for incredible, modern drums with a nostalgic feel, consider the Genista series. These drums are made from 100% American maple and finished in your choice of beautiful sparkle lacquers.
Other Top Brands: If you can't find what you're looking for among the three brands mentioned above, be sure to explore other top brands such as DW, Gretsch, Ludwig, Mapex, Session Pro, Stagg, and Yamaha. Each of these manufacturers offers high-quality drums, kits, and accessories. If you're looking to save some money on your next set, be sure to check out online deals for new and used drum kits.
Remember, choosing the right drum set is an investment in your musical journey, so take the time to find the one that suits your needs, preferences, and budget. Happy drumming!
Manuel Marino is a seasoned Senior Producer, Music Composer, and Artist with over a decade of experience. He specializes in branded entertainment across various mediums, including video games, films, and advertising campaigns. With 20+ years as a game music composer, Manuel has worked on numerous platforms, creating diverse orchestral soundtracks. HIRE ME