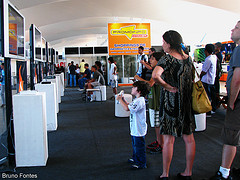 by
Bruno Fontes
With the advantage of a year on the Wii and PS3, the Xbox 360 ended up offering a better selection of games. It was a fantastic year for the Xbox 360 with numerous excellent big-name titles and exclusive releases. Like any other year, there were disappointments as well. In addition to the promise of Guitar Hero and Rock A Finnish music story - Musician Matti Mattila wrote his story for us, a Finnish music story! Please read also his Finnish blog and check his page at LinkedIn. I named this article "A Finnish music story" because through Matti words we can know an exclusive tale about late 70's and 80's of Finnish music. Of course the personal thoughts… Band, this list might surprise you with a few unexpected entries.
The Orange Box
There isn't another package quite like it for the Xbox 360. Five hit games for $60, and not just any five games. One of the best shooters of all time is included, along with its two expansion packs, an eccentric multiplayer game For Game Design - Andrea Angiolino was born the 27th of April, 1966 in Rome, the city where he still lives. He published many boardgames and books about games, besides developing games for every media. His works appeared in more than a dozen of languages including Korean, Czech and Maltese. He is a game journalist on national magazines, newspapers,… , and a fresh-thinking puzzle game. I personally called it "Shooters' Delight".
Eternal Sonata
A wildly imaginative story An Artist Portrait (Part Two) - This is the Part Two (and final part) of the true life story as artist written by Frank V. Cahoj for our Weblog. (Part One) An Artist Portrait (Part Two) I give an unbelievable amount of credence to these two early periods in my life: one of everlasting creation, one of analysis and disillusionment. The… and one of the best combat systems ever implemented in an RPG Darklands, a Classic RPG - I'll talk about Darklands, a Classic RPG in a moment. April is an excellent month to reflect on how the year is going and whether we have achieved all or some of the goals we set for ourselves (Read - Overcoming Procrastination). It's also a time to assess the overall positive or negative trend of… . RPGs live or die by their stories, and Eternal Sonata has one that is delightfully creative. A real-time combat system keeps things fresh, as opposed to the traditional turn-based combat found in many Xbox 360 RPGs. Eternal Sonata will keep you entertained from start to finish.
Guitar Hero 3: Legends of Rock
When a new developer takes over an already established franchise, there are always concerns. Neversoft does well and sticks to the tried-and-true formula previously established by Harmonix. A fantastic soundtrack Philosophy and Music: Twin Pillars of Well-being - The realms of philosophy and music may seem different at first glance, but both are vital to our well-being and can dramatically influence our quality of life. They serve as guiding principles and inspirations that offer us deeper insight into the human condition. The Philosophical Side of Well-being Philosophy, the study of fundamental questions about… helps elevate this game slightly above its predecessors. Rock on, aspiring guitar players.
Forza Motorsport 2
A hardcore racing game that gets it right and is all about the cars. Stunning graphics, spot-on sounds, and excellent customization options. You won't find a better simulator on the Xbox 360; Gran Turismo couldn't even have gotten it so right. With a great lasting appeal, this game is perfect for car enthusiasts looking for a true-to-life racing experience.
Halo 3
The epic saga continues with Halo 3, the third installment in the highly successful series. With even more pressure on Halo this year to utilize the Xbox 360, Halo 3 builds on everything that has made the previous games such amazing successes. It offers new technical and gameplay advancements and raises the bar for online play. As one of the most complete games available, Halo 3 is highly recommended, just make sure to get your Xbox Live subscription.
Mass Effect
When famed developers Bioware (creators of Star Wars: Knights of the Old Republic) announce a new RPG, you mark it on your calendar. Bioware once again proves themselves and creates another classic RPG. Mass Effect is a fantastic RPG with cinematic storytelling and an innovative third-person shooter combat system. You genuinely feel like you're playing the character, and your decisions make a difference in the overall story. Simply put, Mass Effect is a game that must be played.
Assassin's Creed
From the same developers that brought you the legendary Prince of Persia and Tom Clancy's Splinter Cell comes a new franchise with more advanced action. As one of the most highly anticipated games on the top 9 Xbox 360 games of 2007 list, Assassin's Creed is a pseudo-stealth action title that is sure to impress. The story might become monotonous, but its action will not.
Rock Band
Take Guitar Hero, add a microphone and drum set, and then add the opportunity to become rock stars with two to three of your friends. Playing all day doesn't seem so antisocial when you're rocking out together. Rock Band takes music games to a whole new level and is the best party game for the Xbox 360, a guaranteed hit for anyone.
BioShock
BioShock is the top-rated game on this year's list of the best 9 Xbox 360 games of 2007. A first-person shooter that challenges your thinking. It's arguably one of the best graphically designed games to date and has a storyline so impressive that it's unprecedented for a first-person shooter. Irrational Games achieved near perfection in every aspect of this game.
Manuel Marino is a seasoned Senior Producer, Music Composer, and Artist with over a decade of experience. He specializes in branded entertainment across various mediums, including video games, films, and advertising campaigns. With 20+ years as a game music composer, Manuel has worked on numerous platforms, creating diverse orchestral soundtracks. HIRE ME