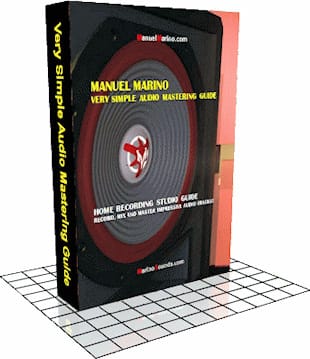 Have FOR FREE Manuel's Guide!!
Since 21 August 2012 the guide is free for everyone!  
I've just released my ebook (PDF document) about Audio Mastering. I wrote it after receiving hundreds requests from my musicians friends. You can find many guides on the net and at your preferred bookstore. But what beginners really need are few tips, to understand the basics, not huge tomes with neverending technical data.
Very Simple Audio Mastering Guide
So I had this idea to write a "very simple" guide, and, I must say, it is really simple, anyone can begin mastering Music Production - Improve Your Sound - The rise in popularity of work-from-home studios has significantly impacted the music production landscape in recent years, driven by the increasing availability of tools and technology. This growth has led to the emergence of mobile recording rigs, making it possible to record full band performances anywhere. While one might anticipate a wealth of high-quality music,… with some success after reading it. I give also a couple of "tricks" so you can begin really soon to obtain a professional quality master. Of course this will not make you a mastering wizard, I'm in this field since 1998 and I continue to study… (yes, those famous tomes! heh). But I'm sure your music tracks New Album - Lost Island - I'm excited to announce the release of my latest Trance music album, "Lost Island". It's now available on various digital outlets worldwide, so you can easily find it by doing a quick search on any search engine! But if you're short on time and don't want to go through the hassle of searching, browsing, and… will be much better and I really hope you'll send me positive emails about the book!
The price of this document is 0 dollars only!!!! this is why the main purpose of writing it was helping my friends and of course helping you, the new musicians with their first audio tools.
I know impressive musicians, talented pianists and guitarists that consider Digital Audio Workstations like monsters. They had mainly classical academical education and it is difficult to explain them how a compressor works. Now with my ebook they'll finally understand the basics about compressors and dynamics, and maybe won't see anymore the DAWs like monsters! 🙂
Manuel Marino is a seasoned Senior Producer, Music Composer, and Artist with over a decade of experience. He specializes in branded entertainment across various mediums, including video games, films, and advertising campaigns. With 20+ years as a game music composer, Manuel has worked on numerous platforms, creating diverse orchestral soundtracks. HIRE ME