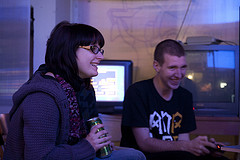 Photo by /tmp/
From casual games Darklands, a Classic RPG - I'll talk about Darklands, a Classic RPG in a moment. April is an excellent month to reflect on how the year is going and whether we have achieved all or some of the goals we set for ourselves (Read - Overcoming Procrastination). It's also a time to assess the overall positive or negative trend of… to MMORPGs, and from a medieval knight battling monsters to a soldier learning to defend his position on the front lines, video games truly offer something for everyone. There are games designed to help you lose weight, boost your IQ, or simply provide a temporary escape from reality.
For true gaming enthusiasts, there are even authentic online TV Cereal, a blend of old and new - Today we interview Jaques Smit, an incredible man. Just read all his current positions: Managing Director at MindNova Advertising Pty (Ltd), Marketing Director at Inland Kitesurfing Pty (Ltd), CEO at Avonstorm Entertainment, Producer at Avonstorm Pictures Pty (Ltd), Technical Director at Blo-Tant Pty (Ltd). Here is the interview and I initially ask about Cereal, his… series about games.
Video gaming has truly evolved, catering to individuals from all walks of life An Artist Portrait (Part Two) - This is the Part Two (and final part) of the true life story as artist written by Frank V. Cahoj for our Weblog. (Part One) An Artist Portrait (Part Two) I give an unbelievable amount of credence to these two early periods in my life: one of everlasting creation, one of analysis and disillusionment. The… . With increasingly realistic graphics and gameplay, it's easy to immerse yourself in your favorite virtual world and forget about the stresses of the day. However, video gaming can also be an expensive hobby.
To save money, consider renting games instead of buying them. Renting games is significantly cheaper than purchasing them, and it allows you to try out a wide range of different titles. Of course, if you rent a game For Game Design - Andrea Angiolino was born the 27th of April, 1966 in Rome, the city where he still lives. He published many boardgames and books about games, besides developing games for every media. His works appeared in more than a dozen of languages including Korean, Czech and Maltese. He is a game journalist on national magazines, newspapers,… that you really enjoy, you might consider buying your own copy later on.
You can also wait for holiday sales, like Christmas, to buy a good number of games. The best video game consoles are usually released a month or two before the holiday shopping season. The PS3 system is an exception, as it wasn't production-ready before the Christmas season. If you plan on buying a new console, wait until the holiday season for the latest releases.
MMORPGs are particularly popular among gamers. To make the most of your experience, choose a strong, unique username that isn't a misspelled version of a popular character or something that looks silly. A good username can make you feel epic and change people's attitudes towards you.
To make gaming even more enjoyable, try exploring multi-player options with friends and family. Playing games alone can be fun, but playing with others can make the experience even more exciting. Nowadays, most games offer a variety of multi-player options to enhance your gaming experience.
Manuel Marino is a seasoned Senior Producer, Music Composer, and Artist with over a decade of experience. He specializes in branded entertainment across various mediums, including video games, films, and advertising campaigns. With 20+ years as a game music composer, Manuel has worked on numerous platforms, creating diverse orchestral soundtracks. HIRE ME