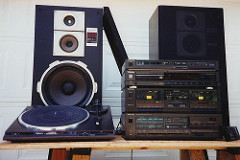 Photo by sonofnels
Once upon a time, music enthusiasts used to carry giant-sized music systems on their shoulders. Then, Sony revolutionized the industry with the introduction of Walkman players, followed by more advanced CD players. However, now compact and powerful MP3 players have taken over, rendering everything else part of history.
MP3 players are no longer designed to retrieve information from CDs or cassettes. Instead, their primary source of music is internet music stores, where users can choose and save any music they like. The digital music trend is in full swing, and numerous online music shops have emerged. But how do you find the best one? Let us guide you.
Napster, originally known for its free music sharing service, had to shut down due to copyright disputes with music labels. However, it has transformed itself into a subscription-based online music service. For a reasonable monthly fee, Napster subscribers can turn their internet connection into an online jukebox, enjoying their favorite tracks from a vast collection of over 4 million songs. For those who don't want to commit to a full month, Napster also offers an option to purchase individual songs, making the Napster experience more affordable.
Another alternative is the Amazon MP3 store, which boasts an extensive library of tunes that has already surpassed 3 million tracks. While some may not find Amazon's collection as impressive, the notable aspect is that their songs are available in MP3 format, allowing listeners the freedom to play their downloaded music on any device of their choosing. However, the ultimate online music source has to be Apple's iTunes store, which features the largest catalog of tracks with an unprecedented collection of over six million songs. But that's not all.
iTunes also offers a significant selection of movies, audiobooks, and even free podcasts. The recent addition of The Beatles' collection has generated great excitement among iTunes users. The convenience and speed of obtaining music rather than hoarding CDs have transformed the commercial music industry What Is A Musician? - For some individuals, the role of a musician may be difficult to comprehend. They may struggle to understand: 1 - the nature of a musician's talent or job, 2 - why musicians work around the clock, and 3 - the concept of a fanbase and the boundaries musicians set with fans. Let's delve into each… . The increasing profitability of the business guarantees the rise of more online music stores in the near future. Soon, every music enthusiast will be able to find the music they want, use it as they please, and even pay for it in their preferred way.
Manuel Marino is a seasoned Senior Producer, Music Composer, and Artist with over a decade of experience. He specializes in branded entertainment across various mediums, including video games, films, and advertising campaigns. With 20+ years as a game music composer, Manuel has worked on numerous platforms, creating diverse orchestral soundtracks. HIRE ME