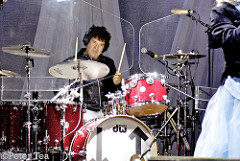 Photo by PeterTea
For a serious musician What Is A Musician? - For some individuals, the role of a musician may be difficult to comprehend. They may struggle to understand: 1 - the nature of a musician's talent or job, 2 - why musicians work around the clock, and 3 - the concept of a fanbase and the boundaries musicians set with fans. Let's delve into each… or band, it's not enough to create great music; they need to be heard. There are numerous ways to work on achieving this goal The Importance of Having a Goal in Life and Why Music is a Harmonious Objective - Having a goal in life is essential for many reasons. It provides a sense of direction, drives motivation, enhances focus, and contributes to personal satisfaction. An aim or target in life helps one to streamline their energy, thoughts, and efforts towards achieving something specific. Without an objective, life can feel aimless and unsatisfying, and individuals… . The key is to focus on how to promote your music and develop a following of people who will also enjoy your music. Recording and releasing music, as well as performing live, are the primary routes to success. However, to succeed, a band or musician must also engage in self-promotion as a separate activity.
Playing live is one of the most effective ways to promote yourself. If you're a new band or just starting a solo career Darklands, a Classic RPG - I'll talk about Darklands, a Classic RPG in a moment. April is an excellent month to reflect on how the year is going and whether we have achieved all or some of the goals we set for ourselves (Read - Overcoming Procrastination). It's also a time to assess the overall positive or negative trend of… , it may be beneficial to secure an opening slot for a more established band. Another option is to organize your own show Cereal, a blend of old and new - Today we interview Jaques Smit, an incredible man. Just read all his current positions: Managing Director at MindNova Advertising Pty (Ltd), Marketing Director at Inland Kitesurfing Pty (Ltd), CEO at Avonstorm Entertainment, Producer at Avonstorm Pictures Pty (Ltd), Technical Director at Blo-Tant Pty (Ltd). Here is the interview and I initially ask about Cereal, his… with other local bands and invite everyone you know. Most importantly, make sure the audience knows who you are.
Promoting your music offstage can also be helpful. Creating posters and flyers for your band and distributing them to record stores, universities, bars, and anywhere with permission can raise your profile. Producing CDs to sell or give away at local stores or gigs is an effective way to attract more listeners and work towards the important goal of promoting your music.
When you perform a gig, one of the most important tasks is to ensure that people are aware of the event. If you can assemble a street team consisting of friends, family, or fans, they can help you in your efforts to promote your music. Having people hand out flyers, talk about the band, and increase your profile can help boost your sound.
Any offline efforts to promote your music should be paired with a strong online presence. This allows new listeners who may not attend local gigs to discover your music. Social media sites make it easy for fans to share their interests with others. A strong website with accessible downloads and videos generates interest in the band. A band or musician who interacts with their fans online can promote themselves to a much wider audience.
There are various websites that allow bands to offer their music for online downloads and may even provide income for the band or musician. Strong links to these websites from the band's own site can help generate more interest in their music.
This is not an exhaustive list of methods to fulfill the need to promote your music. What works for one person or band may not work for another. You may want to focus on playing live or developing For Game Design - Andrea Angiolino was born the 27th of April, 1966 in Rome, the city where he still lives. He published many boardgames and books about games, besides developing games for every media. His works appeared in more than a dozen of languages including Korean, Czech and Maltese. He is a game journalist on national magazines, newspapers,… a strong online presence. It's important to experiment with different marketing techniques. However, for most bands and musicians, finding the right balance of strategies to attract an audience yields the best results.
Manuel Marino is a seasoned Senior Producer, Music Composer, and Artist with over a decade of experience. He specializes in branded entertainment across various mediums, including video games, films, and advertising campaigns. With 20+ years as a game music composer, Manuel has worked on numerous platforms, creating diverse orchestral soundtracks. HIRE ME