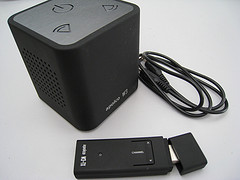 Photo by liewcf
Wireless speakers may not be at the cutting edge of technology as they were not too long ago, but they still remain popular. The good news is that the price of high-quality wireless speakers has become more affordable for many people. However, technology continues to advance rapidly, and it's nearly impossible to stay on the forefront for more than six months before something new comes out.
Therefore, I have made a deliberate decision to no longer strive to be at the forefront of technology. Being just twelve months behind is sufficient for me nowadays. This choice can save you hundreds or even thousands of dollars. I'm sure you're already aware of how much products like computers, particularly laptops, and plasma TV Cereal, a blend of old and new - Today we interview Jaques Smit, an incredible man. Just read all his current positions: Managing Director at MindNova Advertising Pty (Ltd), Marketing Director at Inland Kitesurfing Pty (Ltd), CEO at Avonstorm Entertainment, Producer at Avonstorm Pictures Pty (Ltd), Technical Director at Blo-Tant Pty (Ltd). Here is the interview and I initially ask about Cereal, his… screens have dropped in price in recent times.
So, now is the perfect time to venture into wireless speakers. They are a great option for any situation, as you can move the speakers around without the need for extension cords. They are especially useful in a home theater setup, where people may not be able to see the cables in the dark and might trip over them.
The reason why the cost of wireless speakers has come down is due to the increasing number of manufacturers producing them. Many of these new manufacturers are based in the Far East, which is not a new trend, but the quality is just as good. They simply offer more affordable options.
If your system is a couple of years old, wireless speakers should be one of the first upgrades you consider. They provide much more flexibility in terms of moving your speakers around to achieve the best sound in your home theater setup.
One tip to potentially save some money on your wireless speaker purchase is to buy online. However, don't rush into it. First, visit the local shopping malls and see which wireless speaker systems you like. Take note of three brands or models. Then, go online and compare the prices for these models.
Note down the models, the online prices, and the URL of the store where you found them online. Next, return to the stores where you initially saw those models and ask if they are willing to match or beat the price. If they agree to price match, that's great. You can make the purchase locally, and if any issues arise, you can easily return them. If they don't agree, you need to weigh the value of buying locally versus buying online.
By following this approach, you can end up with a high-quality home theater system with wireless speakers. Trust me, you should give wireless speakers a try. If you don't believe me, just take a walk around the shopping mall on a Saturday afternoon, and you'll soon be convinced of their appeal.
Manuel Marino is a seasoned Senior Producer, Music Composer, and Artist with over a decade of experience. He specializes in branded entertainment across various mediums, including video games, films, and advertising campaigns. With 20+ years as a game music composer, Manuel has worked on numerous platforms, creating diverse orchestral soundtracks. HIRE ME