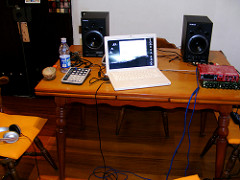 Photo by zero.the.hero
If you want to be able to record songs whenever you desire, or if you've just composed a new track and want to capture an original version of it so you don't forget it, having a home studio Music Production - Improve Your Sound - The rise in popularity of work-from-home studios has significantly impacted the music production landscape in recent years, driven by the increasing availability of tools and technology. This growth has led to the emergence of mobile recording rigs, making it possible to record full band performances anywhere. While one might anticipate a wealth of high-quality music,… can make recording and producing music easier than ever before.
There are numerous aspiring musicians and bands out there, and making ends meet in the music industry What Is A Musician? - For some individuals, the role of a musician may be difficult to comprehend. They may struggle to understand: 1 - the nature of a musician's talent or job, 2 - why musicians work around the clock, and 3 - the concept of a fanbase and the boundaries musicians set with fans. Let's delve into each… can be challenging. Booking a studio and hiring a producer to release your first album New Album - Lost Island - I'm excited to announce the release of my latest Trance music album, "Lost Island". It's now available on various digital outlets worldwide, so you can easily find it by doing a quick search on any search engine! But if you're short on time and don't want to go through the hassle of searching, browsing, and… often requires more money than most bands and musicians can afford. However, with today's technology, it's easier than ever to set up a home recording studio, making it more accessible for artists to record their music and gain recognition. While the quality of recordings may not be as high as those from a professional studio, with the right equipment, you can come very close.
Once you've decided to create your own studio, you'll need to find a space with enough room to accommodate all your equipment. Make sure everything is easily accessible. If possible, choose a room that doesn't face the street, as traffic noise can interfere with your recordings. You can dampen other external sounds and echoes by using thick curtains and carpets.
Computers are essential in a home studio, as they play a significant role in our lives. You don't necessarily have to buy the most expensive computer Yestel Tablet - Thursday, approaching the End of the Week: Yestel tablet. As the week draws to a close, an unfortunate incident occurred - my son accidentally broke his tablet. In search of a replacement, I turned to Amazon and discovered an exceptional find. Introducing Yestel Tablet: A Remarkable Tablet Brand The tablet I came across was from… available; the one you currently own is probably sufficient. However, investing in good editing software will simplify the editing process. A quality sound interface is something you should consider purchasing, as there are many affordable external devices that are superior to the built-in sound card in your computer. Don't skimp on the microphone either, as a condenser microphone is the best choice for achieving good sound quality.
Once you have all your equipment ready, you can begin recording and producing music. You can record musical instruments, such as PRS guitars, and singers. You can even record various sounds and incorporate them into your songs. There are no limits to what you can do, and with practice, you'll improve. You may even release multiple albums and gain recognition in the music industry.
Manuel Marino is a seasoned Senior Producer, Music Composer, and Artist with over a decade of experience. He specializes in branded entertainment across various mediums, including video games, films, and advertising campaigns. With 20+ years as a game music composer, Manuel has worked on numerous platforms, creating diverse orchestral soundtracks. HIRE ME