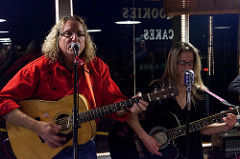 Photo by Chris D 2006
For many people, music is a way of life An Artist Portrait (Part Two) - This is the Part Two (and final part) of the true life story as artist written by Frank V. Cahoj for our Weblog. (Part One) An Artist Portrait (Part Two) I give an unbelievable amount of credence to these two early periods in my life: one of everlasting creation, one of analysis and disillusionment. The… . They spend countless hours listening to their favorite music, immersing themselves in the melodies and hoping to emulate the performances of great musicians. Many individuals believe that they need to be blessed with an exceptional voice to become a good singer. However, this couldn't be further from the truth. You don't have to be born with an incredible voice; you can learn how to sing.
As the saying goes, "Practice makes a man perfect." A skilled performer, especially a musician What Is A Musician? - For some individuals, the role of a musician may be difficult to comprehend. They may struggle to understand: 1 - the nature of a musician's talent or job, 2 - why musicians work around the clock, and 3 - the concept of a fanbase and the boundaries musicians set with fans. Let's delve into each… , is not defined solely by the music they create. Instead, many renowned performers are distinguished by the confidence and determination they display in front of large audiences.
In recent times, there have been numerous music reality shows on television Cereal, a blend of old and new - Today we interview Jaques Smit, an incredible man. Just read all his current positions: Managing Director at MindNova Advertising Pty (Ltd), Marketing Director at Inland Kitesurfing Pty (Ltd), CEO at Avonstorm Entertainment, Producer at Avonstorm Pictures Pty (Ltd), Technical Director at Blo-Tant Pty (Ltd). Here is the interview and I initially ask about Cereal, his… that promote emerging talent. Participating in these shows and garnering public votes can give your music career Darklands, a Classic RPG - I'll talk about Darklands, a Classic RPG in a moment. April is an excellent month to reflect on how the year is going and whether we have achieved all or some of the goals we set for ourselves (Read - Overcoming Procrastination). It's also a time to assess the overall positive or negative trend of… a significant boost, even if you don't win. If you are good, people will appreciate you, and you may become their favorite.
When you embark on a career in music, there is an important distinction you need to make. You must determine whether you are truly serious about building a career in the music industry Marketing and Music: Is Marketing Really So Powerful That Any Song Can Become Famous? Or Does Talent Still Matter? - Today let's dive into a topic that's been buzzing around a lot: the relationship between marketing and music. We all know that marketing plays a massive role in the music industry, but does it actually hold the power to make any track a hit? Or does talent still stand a chance? First off, let's address… or if you are simply a fan of great performers. Being the latter is not a problem, but building a successful career on stage requires immense dedication and commitment.
If you are determined to pursue a career in the music industry, go ahead! The first step is to learn more about different genres of music and immerse yourself in them. Take the time to analyze the music you listen to and try to distinguish between the music that resonated well with the audience and the music that didn't. By doing this, you will gradually develop an understanding of what people like and what they don't. Since performing is all about captivating people, this insight is crucial. In this way, you can learn how to sing without having to take formal singing classes.
Manuel Marino is a seasoned Senior Producer, Music Composer, and Artist with over a decade of experience. He specializes in branded entertainment across various mediums, including video games, films, and advertising campaigns. With 20+ years as a game music composer, Manuel has worked on numerous platforms, creating diverse orchestral soundtracks. HIRE ME