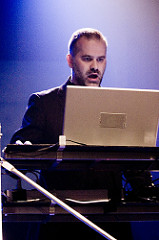 Photo by vintagedept
First of all, if you want to learn piano by ear using chords, you need to have a solid understanding of scales. Scales form the foundation of playing the piano with chords, as chords are built from these scales. The notes in a scale will guide you in determining which chords to play when you are playing a song.
To effectively use chords, you must learn and practice scales. Find a reliable source that can teach you the formula for scales and how to play them. You can access this information for free by searching for videos or tutorials that explain scale formation. It's a straightforward process, but you need to practice scales in all 12 keys.
The second tip for learning to play piano by chords is to start understanding how to form chords. Once you grasp the concept of scales, it becomes easier to figure out how to form chords using the scale. There are two primary chords and two secondary chords that you should learn. However, if you are just starting out, you shouldn't worry too much about the secondary chords and focus The Importance of Having a Goal in Life and Why Music …
...Read the rest.
"Learn to Play Piano by Chords – Two Tips on Where to Get Started"