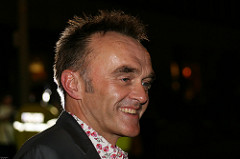 Photo by gdcgraphics
While the media tends to idolize film stars and praise their fantastic work, it's important to give credit to the directors who bring everything together. They play a crucial role in filmmaking, and some of them deserve more recognition and love Artists Psychology - Here's an interesting exclusive article Roland d'Humières, 56 years old psycho-analyst from Aix en Provence (France) has written for our Weblog. I think it to be a very interesting writing about the artists psychology, or maybe "arts psychology", what's behind an artists mind. Artists Psychology Whatever is his/her Art, painting, music, dance, writing, or any… . Here are a few of my favorite directors working today.
Martin Scorsese is, without a doubt, one of the best directors of all time. His body of work is remarkable, and he will be remembered as a true legend. If you're not familiar with Scorsese's films, some of his notable works include Raging Bull, Gangs of New York, Taxi Driver, and Goodfellas.
Christopher Nolan is a director who consistently surprises and captivates me. It seems like he keeps releasing films that make it into my top 20 favorites of all time. The Dark Knight, Memento, The Prestige, …
...Read the rest.
"A Film Enthusiast's Favorite Directors In The Film Industry"