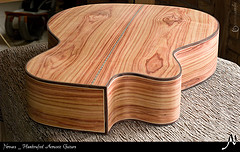 Photo by dereckesanches
Musical instruments, such as the guitar, can impart a variety of attitudes and qualities to those who play them. In learning the guitar, you will experience your first taste of passion. You will come to understand the value of perseverance and learn many other important and cherished lessons, many of which relate to one's emotions Artists Psychology - Here's an interesting exclusive article Roland d'Humières, 56 years old psycho-analyst from Aix en Provence (France) has written for our Weblog. I think it to be a very interesting writing about the artists psychology, or maybe "arts psychology", what's behind an artists mind. Artists Psychology Whatever is his/her Art, painting, music, dance, writing, or any… and character.
The guitar has a rich history. The Spanish vihuela is considered an advanced precursor to the guitar we know today, with its lute-style tuning and a small yet guitar-like body. Instrument-makers and acoustic guitar How to Buy a Guitar - The guitar is known for its dynamic and unique sound, making it a popular instrument in various genres of music. Whether you're a beginner or someone with a growing passion for guitar playing, here are some top tips for buying a guitar: …
...Read the rest.
"Learning The Guitar – A Reliable Guide To The Guitar's Colorful History"