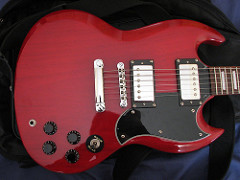 Photo by guerrera
The guitar is a relatively easy musical instrument to play, but it's not something that can be picked up and mastered overnight. This six-string instrument has retained its simplicity throughout the years and is primarily played by producing melodies through guitar chords. Follow these simple tips for mastering Music Production - Improve Your Sound - The rise in popularity of work-from-home studios has significantly impacted the music production landscape in recent years, driven by the increasing availability of tools and technology. This growth has led to the emergence of mobile recording rigs, making it possible to record full band performances anywhere. While one might anticipate a wealth of high-quality music,… guitar chords, and you'll be confidently playing the guitar in no time.
Use the right chord guide.
A chord guide can be provided by a skilled guitarist, but if you don't understand what it's trying to convey, it won't be effective. When learning guitar chords, make sure you have a proper understanding of the guitar tab notation. This notation consists of horizontal lines representing the guitar's six strings. In a guitar tablature, finger positions are marked by dots or numbers indicating which strings and frets should be …
...Read the rest.
"4 Simple Steps For Mastering Guitar Chords"