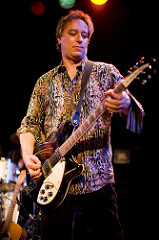 Photo by Thomas Hawk
Musicians are a unique breed. Those who create, play, or engage in music understand this distinction. Whether their instrument of choice is the flute or tuba, piano or bass, it requires a special passion. Some instruments may be more challenging to learn, but many believe that playing the guitar is not too difficult. It's a matter of recognizing that it's the instrument you want to play and acquiring the right guitar chords.
A guitarist can choose to strum or pluck the strings and discover the notes by using their fingertips or a slide. They can also play bar chords by pressing one finger across all the strings and using the other fingers below. Many beginners start with the simple chords of C, D, and G, and then progress to learning others. Blues musicians often favor the sounds of B, A, D, and F. Each enthusiast finds their own unique sound, either alone or with friends, and they build from there.
Learning where to place the fingers on the guitar is relatively easy. There are diagrams in songbooks and online resources that show Cereal, a blend of old and new - Today we interview Jaques Smit, an …
...Read the rest.
"The Enjoyment Of Finding The Nicest Guitar Chords"