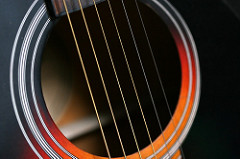 Photo by John Carleton
Learn Guitar Tab, because it is the simplest method for training yourself how to play the amazing stringed instrument. I will never forget the first time I heard the term "tab." All I could think of was that small part found on the top of a soda can. However, what I wasn't aware of was the undeniable fact that just 10 minutes of quick research would unlock the world of guitar for me.
Guitar tab is a straightforward system that uses numbers to represent notes. I may not be able to provide you with the best visual Painting: A Spiritual Pathway to the Divine - In a world increasingly driven by technology and fast-paced living, the art of painting provides an oasis of calm and introspection. It allows both the artist and the observer to delve deep into a realm often considered transcendental. For many, painting serves as a bridge to the divine, a medium through which spirituality is explored… representation through mere words, but at least I can give you a general idea of how this system works. On the guitar neck, you will find something called a fretboard. The fretboard is where you see …
...Read the rest.
"Understand Guitar Tab Simply"