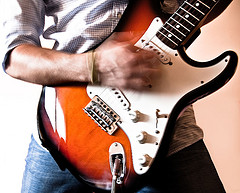 Photo by sausyn
Beginner electric guitar students, well, some of them are often too eager to become skilled quickly. They aspire to be like their idols and are quick to seek out various equipment that produces cool sound effects.
While it's okay to explore the world of electric guitar and experiment with different sounds, it's important to remember that when you're just starting out, you should focus Having a Goal in Life and Why Music is a Harmonious Objective - Having a goal in life is essential for many reasons. It provides a sense of direction, drives motivation, enhances focus, and contributes to personal satisfaction. An aim or target in life helps one to streamline their energy, thoughts, and efforts towards achieving something specific. Without an objective, life can feel aimless and unsatisfying, and individuals… on learning the basic principles of the guitar. Try playing it without any effects, just in its plain and clean form.
Adding distortions, for example, won't help you appreciate the notes or the musicality of what you're playing. It may create interesting sound effects that make you appear cool, but it won't necessarily improve your skills.
Once again, start with the basics, just like you …
...Read the rest.
"Beginner Electric Guitar – Start out With Clean"