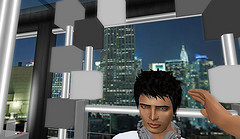 by
rafeejewell
Lauded as one of the top 10 DJs in the world, Ferry Corsten has made quite a name for himself in the trance Trance Music - Free Flowing Electronica - Have you ever found yourself dancing in a club, utterly absorbed in the melody, feeling as if the trance music is flowing through you and guiding your body's movements? This is an experience I've had numerous times during carefree nights at local techno clubs I've often wondered which type of techno generates this unforgettable sensation… and techno music scene over the past few years. With hits like "Punk," "Made of Love," "Fire," and "Beautiful" (and many more singles) topping the dance charts worldwide, Corsten has risen to extraordinary fame and continues to excel in his ventures today. In addition to making a name for himself, he has also collaborated with some of the best and brightest trance superstars, including DJ Tiësto, Robert Smith, and Ayumi Hamasaki. However, success didn't come overnight.
Ferry Corsten began producing and mixing Music Production - Improve Your Sound - The rise in popularity of work-from-home studios has significantly impacted the music production landscape in recent years, driven by the increasing availability of tools and technology. This growth has led to the emergence of mobile recording rigs, making it possible to record full band performances anywhere. While one might anticipate a wealth of high-quality music,… before he was sixteen years old. He had many aliases, ranging from "System F" to "Moonman" to "Skywalker" (and about ten other names). He worked very hard to get his name out there and eventually won a few awards and recognition in his native country of the Netherlands, skyrocketing him to national fame.
But he didn't stop there. No, Ferry Corsten was just getting started. One of his earliest professional albums, Out of the Blue, gained international attention in clubs and discos before eventually charting in some top twenties charts.
Gouryella, formed later in the nineties with DJ Tiësto, propelled him even higher on the international stage, with more and more people listening and raving about his trance beats with each passing album New Album - Lost Island - I'm excited to announce the release of my latest Trance music album, "Lost Island". It's now available on various digital outlets worldwide, so you can easily find it by doing a quick search on any search engine! But if you're short on time and don't want to go through the hassle of searching, browsing, and… . Corsten started getting into remixes and even ended up doing a remix for the popular Irish band, U2, on their "New Year's Day" track. He began to accumulate numerous awards, including platinum status on one of his works in the U.K. and the Silver Harp Award in the Netherlands.
And he still didn't stop there. Ferry Corsten started working at the top dance events in the country, including the Dance Valley Anthem. Connected, created with Ayumi Hamasaki. After the Dance Valley event, Connected sold millions of copies worldwide and is now considered one of his most popular songs ever recorded.
And so Ferry Corsten continued forward. With racy, monstrous (literally) hits like Punk (who could forget the music video of the half-naked dancer with a snake draped over her glittering topline while she danced among zombie-like clubbers?) and of course, the charming and emotionally-charged Made of Love, it's no wonder he's still a smashing success. Furthermore, Fire was named one of the best trance songs of the year in 2006. He even has his own radio show Cereal, a blend of old and new - Today we interview Jaques Smit, an incredible man. Just read all his current positions: Managing Director at MindNova Advertising Pty (Ltd), Marketing Director at Inland Kitesurfing Pty (Ltd), CEO at Avonstorm Entertainment, Producer at Avonstorm Pictures Pty (Ltd), Technical Director at Blo-Tant Pty (Ltd). Here is the interview and I initially ask about Cereal, his… . Is there anything Corsten can't do? It seems not.
Despite the general insensitivity of the hard-drumming techno beats in a club, Ferry Corsten changed the industry, proving with powerful and evocative music videos that techno also has a very human quality to it. He has truly made his mark in the trance/techno music industry What Is A Musician? - For some individuals, the role of a musician may be difficult to comprehend. They may struggle to understand: 1 - the nature of a musician's talent or job, 2 - why musicians work around the clock, and 3 - the concept of a fanbase and the boundaries musicians set with fans. Let's delve into each… , but at just 37 years of age, he still has grand plans for the future. Will he be able to completely revolutionize the entire techno music genre? Only time will tell.
Manuel Marino is a seasoned Senior Producer, Music Composer, and Artist with over a decade of experience. He specializes in branded entertainment across various mediums, including video games, films, and advertising campaigns. With 20+ years as a game music composer, Manuel has worked on numerous platforms, creating diverse orchestral soundtracks. HIRE ME