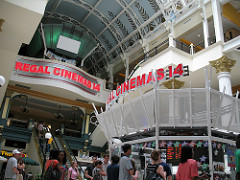 Photo by Mr. T in DC
The ideal place to go and have a good time nowadays is the movie theater. With numerous movies releasing every week, people now have an abundance of choices to enjoy. Utilizing the latest technologies, movie enthusiasts are guaranteed to have an immersive experience. The landscape of the movie industry has drastically changed over the past century.
As the entertainment industry flourishes, it has become increasingly important for movie theater owners to meet customer expectations in the best possible way. With technology playing an increasingly significant role, theater owners strive to provide the best picture quality and comfortable seating in air-conditioned auditoriums. Theater owners seem to explore every possible avenue to attract the public. Movie theaters not only provide entertainment but also serve as dating destinations. It's an opportunity to meet old friends and make new ones. Of course, this requires a small effort on your part.
Some of the latest technological advancements in this industry include 3D and IMAX. 3D technology allows the audience to experience movies in three dimensions. Viewers are provided with special polarized glasses that make images appear to pop out of the screen. The number of 3D screens worldwide has surpassed 15,000. IMAX utilizes film with a frame size ten times larger than regular screens, offering superior image quality.
Cinema designs vary. Some theaters are rectangular, while others have a more rounded layout. The earlier trend was to have large theaters that could accommodate a higher number of spectators. However, this was later found to be relatively expensive for theater owners. The capacity of a theater doesn't necessarily guarantee a full house unless the movie receives positive reviews and attracts an audience. Therefore, the current trend favors smaller capacity theaters, which are more cost-effective.
The era of multiplexes has arrived, where there are multiple movie screens instead of just one. This allows owners to run different shows simultaneously and offers more choices to the audience regarding which movie they want to see. With multiple movies playing at the same time, theater owners are generating substantial revenue. To top it off, megaplexes with over twenty screens are now emerging.
Movie theaters not only show Cereal, a blend of old and new - Today we interview Jaques Smit, an incredible man. Just read all his current positions: Managing Director at MindNova Advertising Pty (Ltd), Marketing Director at Inland Kitesurfing Pty (Ltd), CEO at Avonstorm Entertainment, Producer at Avonstorm Pictures Pty (Ltd), Technical Director at Blo-Tant Pty (Ltd). Here is the interview and I initially ask about Cereal, his… films but also occasionally broadcast live matches and events, which are popular among the local crowd, such as sports world cups or opera shows. However, this is not done regularly.
Ticket prices vary from theater to theater. Multiplexes usually charge higher admission fees compared to single-screen theaters, allowing individuals to choose a theater based on their budget. Tickets are particularly expensive in IMAX screens and certain multiplexes. As theaters no longer allow customers to bring their own food, they are now making significant profits from the snacks they sell inside the theaters.
Manuel Marino is a seasoned Senior Producer, Music Composer, and Artist with over a decade of experience. He specializes in branded entertainment across various mediums, including video games, films, and advertising campaigns. With 20+ years as a game music composer, Manuel has worked on numerous platforms, creating diverse orchestral soundtracks. HIRE ME