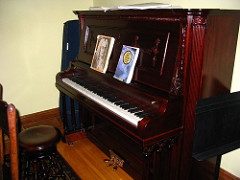 by
jamincan
Taking piano lessons nowadays is no longer a difficult task for individuals from various walks of life An Artist Portrait (Part Two) - This is the Part Two (and final part) of the true life story as artist written by Frank V. Cahoj for our Weblog. (Part One) An Artist Portrait (Part Two) I give an unbelievable amount of credence to these two early periods in my life: one of everlasting creation, one of analysis and disillusionment. The… , regardless of age, gender, or race. Many people simply love Artists Psychology - Here's an interesting exclusive article Roland d'Humières, 56 years old psycho-analyst from Aix en Provence (France) has written for our Weblog. I think it to be a very interesting writing about the artists psychology, or maybe "arts psychology", what's behind an artists mind. Artists Psychology Whatever is his/her Art, painting, music, dance, writing, or any… the sound of this musical instrument and are enticed to learn the art of playing it. Learning to play the piano is not as difficult as it may seem, as there is now a wide range of approaches available for anyone to learn at their convenience, wherever they may be.
For beginners, learning to play the piano may initially appear challenging. However, if you have a genuine passion for it, the journey will not be as difficult as you might think. If you decide to take piano lessons, it would greatly benefit you to approach it with enthusiasm. The first step is to establish a starting point of some kind.
The initial task in learning to play the piano is to become familiar with the keyboard, which consists of 88 keys.
As a starting point, you should focus on Middle C. This particular note should be the first thing you become familiar with before you can proceed to learn a short chord progression TranceEngine from FeelYourSound - Today we review TranceEngine from FeelYourSound TranceEngine VST and AU plug-in (feelyoursound.com) With this impressive VST plugin you can create Trance sequences to be included in your Trance masterpiece and you will create stunning tracks like my Dream a Trance Music To create the first sequences for your track it's very easy. Let's start from… . Piano lessons should be approached with dedication.
Once you have identified your starting point, which is Middle C, the next step is to locate it on the keyboard. It is recommended to seek assistance from an expert, as finding Middle C on your own can be time-consuming.
There are now various methods available for learning to play the piano. You have the freedom to choose whether to follow traditional or modern approaches to piano lessons. In addition to learning from a music instructor, online lessons are also readily available, and some are even offered for free.
If you opt to learn to play the piano through online lessons, it is important to be cautious and selective when dealing with the different websites related to it. Make sure to choose a reputable website that provides clear and easy-to-understand instructions for quickly and easily learning to play the piano.
There are also many professional music experts available who offer their services. Although most of them charge higher fees, you may be able to find referrals from friends at a lower cost or even for free. Having friends can truly be beneficial in the long run.
Learning to play the piano does not have to be expensive. Apart from receiving free lessons from friends, you can also find completely free piano lessons online. These online lessons are accessible whenever and wherever you need them. Additionally, you can opt for the most efficient piano lessons, which allow you to learn in a shorter period of time at a reduced cost.
Manuel Marino is a seasoned Senior Producer, Music Composer, and Artist with over a decade of experience. He specializes in branded entertainment across various mediums, including video games, films, and advertising campaigns. With 20+ years as a game music composer, Manuel has worked on numerous platforms, creating diverse orchestral soundtracks. HIRE ME