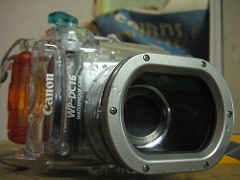 Photo by Paleontour
Nowadays, there is a wide variety of cameras available for capturing photos. Not only are there different digital cameras on the market, but there are also various types to choose from. Some cameras are point-and-shoot models, while others offer users more control over their photography.
One of the recent developments in camera technology is the emergence of waterproof models. These cameras are perfect for capturing memorable moments at the beach or in water-related activities. Here are some tips on how to find the best waterproof digital cameras at the most affordable prices.
A good starting point when searching for waterproof digital cameras is a department or electronics store. Here, you can see different models in person and talk to sales representatives about the features and capabilities of each camera. This allows you to have a hands-on experience and get a better idea of what options are available. Additionally, local stores often have promotions and special deals, so you may be able to find a great bargain by visiting a nearby department or electronics store.
Another option is to explore the internet for more choices. Online, you can browse through stores worldwide to find the best possible camera. If you have a specific brand in mind Self-realization and meditation (yoga for the mind) - Peter Cajander allowed us to publish this part from his book Fragments of Reality. It talks about life from a personal perspective covering areas ranging from self-realization, meditation, stress, happiness, death, and everyday living. Peter is a writer, philosophical thinker, entrepreneur, strategy consultant, business executive, and author to name a few titles. He has been… , such as an Olympus waterproof digital camera, you can even use price comparison websites to find the best deal on the camera you desire. The internet also allows you to research different waterproof digital cameras to find one that offers the best combination of quality and price. You can read reviews from both experts and everyday consumers, giving you valuable insights into which waterproof cameras are highly recommended and which ones to avoid. By considering the opinions of others, you are more likely to choose the best camera for your needs and lifestyle.
Lastly, if you have decided on a waterproof digital camera and know which model you want, you can explore online auction websites. These platforms often have a variety of camera options, including used or refurbished models, which can sometimes be found at lower prices compared to retail stores. However, it's important to exercise caution and ensure you are purchasing from a reputable seller.
In conclusion, whether you prefer to visit local stores, search online, or explore auction websites, there are multiple avenues for finding the best waterproof digital cameras at competitive prices. By conducting thorough research and considering customer reviews, you can make an informed decision and find a camera that suits your requirements perfectly.
Manuel Marino is a seasoned Senior Producer, Music Composer, and Artist with over a decade of experience. He specializes in branded entertainment across various mediums, including video games, films, and advertising campaigns. With 20+ years as a game music composer, Manuel has worked on numerous platforms, creating diverse orchestral soundtracks. HIRE ME