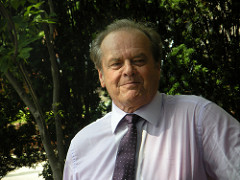 Photo by Eric Gilliland
Jack Nicholson is an incredibly well-known figure in the film industry, particularly for his unique and enigmatic roles. His distinct presence and captivating performances have garnered critical acclaim and widespread recognition. Among the Hollywood scene, Nicholson has established a trademark character that is both distinct and hauntingly alluring. Let's take a look at some of Nicholson's most iconic film roles of all time.
Bringing classic novels to life An Artist Portrait (Part Two) - This is the Part Two (and final part) of the true life story as artist written by Frank V. Cahoj for our Weblog. (Part One) An Artist Portrait (Part Two) I give an unbelievable amount of credence to these two early periods in my life: one of everlasting creation, one of analysis and disillusionment. The…
One of Jack Nicholson's notable achievements was his role in the film adaptation of the renowned Ken Kesey novel, "One Flew Over the Cuckoo's Nest." This role marked a turning point in his career Darklands, a Classic RPG - I'll talk about Darklands, a Classic RPG in a moment. April is an excellent month to reflect on how the year is going and whether we have achieved …
...Read the rest.
"Peering at the Best Jack Nicholson's Movie Characters"