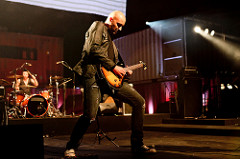 Photo by freelenz
Television Cereal, a blend of old and new - Today we interview Jaques Smit, an incredible man. Just read all his current positions: Managing Director at MindNova Advertising Pty (Ltd), Marketing Director at Inland Kitesurfing Pty (Ltd), CEO at Avonstorm Entertainment, Producer at Avonstorm Pictures Pty (Ltd), Technical Director at Blo-Tant Pty (Ltd). Here is the interview and I initially ask about Cereal, his… production music, when selected properly and of high quality, enhances the impact of the visual Painting: A Spiritual Pathway to the Divine - In a world increasingly driven by technology and fast-paced living, the art of painting provides an oasis of calm and introspection. It allows both the artist and the observer to delve deep into a realm often considered transcendental. For many, painting serves as a bridge to the divine, a medium through which spirituality is explored… image. Music complements your commercials, infomercials, network promos, TV dramas, or sitcoms. This is a fact, and it should play a crucial role in your project—absolutely no room for anything of poor quality.
There are various ways to secure your music. The common terms include Stock, Royalty-Free, Buyout Production, Video Production Music, and Production Music Libraries. While these options serve a similar function, they differ in quality, cost, and other aspects. For example, royalty-free and buyout production may seem like a more affordable choice compared to others. However, in reality, you end up paying more for nothing. You could spend hundreds of dollars on music that you won't have any use for. You might purchase an entire CD that includes tracks completely irrelevant to your creative vision. On top of that, royalty-free and buyout production music companies are known to profit by marketing Marketing and Music: Any Song Can Become Famous? - Today let's dive into a topic that's been buzzing around a lot: the relationship between marketing and music. We all know that marketing plays a massive role in the music industry, but does it actually hold the power to make any track a hit? Or does talent still stand a chance? First off, let's address… outdated CDs. You wouldn't want to use outdated music in your project.
Maximize your video with top-notch television production music. While some libraries have limited content and low-quality music, many others offer a wide range of fresh tracks. Look for a library that updates its collection daily with new tracks. Some libraries offer over 115,000 options for you, along with the added value of industry experts who can assist you in selecting the perfect track for your TV production. Sometimes, you won't have the luxury of time to browse through CDs. It makes sense to find companies with extensive music libraries that cater to even the most specific requirements, while staying up to date with the latest trends and classics.
Modern technology has enabled fast online music downloads. Additionally, with digital cue sheet capabilities, licensing TV production music has become less tedious and complicated than it used to be. There's no need to endure the ordeal of paperwork, as some music licensing firms will work with your budget and provide an easy one-time settlement.
With these hassle-free options, there is no reason to settle for inferior TV production music. Choose the perfect soundtrack Philosophy and Music: Twin Pillars of Well-being - The realms of philosophy and music may seem different at first glance, but both are vital to our well-being and can dramatically influence our quality of life. They serve as guiding principles and inspirations that offer us deeper insight into the human condition. The Philosophical Side of Well-being Philosophy, the study of fundamental questions about… and deliver an award-winning television production.
Manuel Marino is a seasoned Senior Producer, Music Composer, and Artist with over a decade of experience. He specializes in branded entertainment across various mediums, including video games, films, and advertising campaigns. With 20+ years as a game music composer, Manuel has worked on numerous platforms, creating diverse orchestral soundtracks. HIRE ME