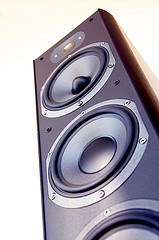 Photo by andylist
Professional music equipment comes in various forms, some larger and some smaller. There are two main types of music systems: fixed/installed and portable. Each type has specific features based on the intended purpose. While a larger professional sound system can cover a large audience, it may not be suitable for smaller venues.
To determine the size of the professional sound system you need, you must consider the number of people you want to cover and the size of the environment. Additionally, the positioning and location of the speakers should be taken into account, as not all speakers are ideal for every space. Many speakers on the market today are designed for specific applications, such as providing sound coverage for schools or concerts. Some companies offer professional sound technology tailored for specific uses, but this may not always be the best solution for achieving the highest level of sound coverage. Now let's take a look at the three main components of a professional sound system:
Mixers: A mixer is the primary component of a sound system. It takes in signals from various sources and blends them together. Users can adjust the levels of their CD player and microphone
…
...Read the rest.
"Pro Sound Systems – Performing Live Music"