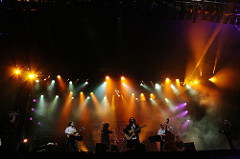 Photo by miss_rogue
The best music festivals in the world are unique events that have the power to bring together people from various countries to create amazing moments together. Besides the fact that they provide a great opportunity to meet people from different nations and continents, they also offer the perfect setting to listen to music. It is undeniable that music sounds even better when experienced in a specially designed atmosphere and accompanied by good friends.
Almost every region of the world hosts musical events that cater to different types of music or artistic expressions. No matter how niche or unique your taste in music may be, there is bound to be a festival dedicated to it. For example, for those who love Artists Psychology - Here's an interesting exclusive article Roland d'Humières, 56 years old psycho-analyst from Aix en Provence (France) has written for our Weblog. I think it to be a very interesting writing about the artists psychology, or maybe "arts psychology", what's behind an artists mind. Artists Psychology Whatever is his/her Art, painting, music, dance, writing, or any… classical music, opera, drama, or symphony, there are numerous festivals they can attend. Some notable examples include the White Nights Festival in St. Petersburg, Russia, the Salzburg Festival in Austria, the Edinburgh International Festival in Scotland, and the Savonlinna Opera Festival in Finland.
The Salzburg Festival, which first appeared in 1920, centers around commemorating the death of Wolfgang Amadeus Mozart. The White Nights Festival in Russia encompasses a variety of activities, from theater performances to ballet. The actors dressing in period costumes is a homage to the era of Peter the Great. The Edinburgh Festival in Scotland takes place in August and is seen as a celebration marking the end of World War II and the revival of the human spirit.
For those who enjoy listening to jazz music, there are two notable festivals they can attend. The jazz festival held in Copenhagen, Denmark, is unique not only because it offers free entrance but also because it promotes eco-friendly transportation, encouraging participants to travel from one venue to another on bicycles. The Montreal Jazz Festival is also highly acclaimed, featuring 650 concerts, half of which do not require tickets to be purchased.
Pop and rock music A Finnish music story - Musician Matti Mattila wrote his story for us, a Finnish music story! Please read also his Finnish blog and check his page at LinkedIn. I named this article "A Finnish music story" because through Matti words we can know an exclusive tale about late 70's and 80's of Finnish music. Of course the personal thoughts… enthusiasts can attend the PinkPop festival in Landgraaf, Netherlands. People often purchase tickets for this three-day event months in advance. The festival attracts renowned artists, making it a highly rewarding experience for attendees. The Reggae Sumfest in Jamaica is a recommended festival for those who love reggae music and breathtaking lush green scenery.
These festivals offer extraordinary experiences for music lovers and provide a platform for people to celebrate their shared passion for music and art.
Manuel Marino is a seasoned Senior Producer, Music Composer, and Artist with over a decade of experience. He specializes in branded entertainment across various mediums, including video games, films, and advertising campaigns. With 20+ years as a game music composer, Manuel has worked on numerous platforms, creating diverse orchestral soundtracks. HIRE ME