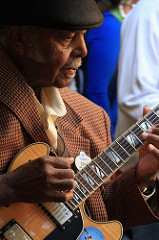 Photo by armadillo444
Waking up one morning and expecting to play the blues guitar The Annals Of Blues Guitar - The blues is a genre of music that can be vocal, instrumental (blues guitar), or both. It primarily uses the 'blue' notes, which are based on a 'minor pentatonic' scale, also known as the blues scale. Blues music originated in African-American communities in the U.S., drawing from work songs, spirituals, field hollers, chants, shouts, and… like a professional guitarist won't work magically. You need to start with some baby steps and gradually develop your skills and techniques over time, which is why it's important to study the fundamentals.
The first step in learning the basics is understanding how to tune your guitar and at least learning a few basic chords. You should also have a basic knowledge of reading and playing music notes, along with any other lessons that come with a beginner's course.
Secondly, it's crucial to ensure that you are using the right instrument. It's recommended to start with an acoustic guitar How to Buy a Guitar - The guitar is known for its dynamic and unique sound, making it a popular instrument in various genres of music. …
...Read the rest.
"The Basic Stuff you Need to Know about Blues Guitar"