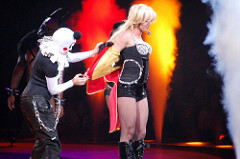 Photo by TexKap
On March 25, DJ Pauly D from Jersey Shore took the stage at the Palms Casino and Resort's Rain nightclub, delighting the wild audience with a compilation video of Britney Spears' live performances. The crowd went even more berserk when Britney Spears herself appeared on stage.
Britney made a grand entrance wearing a stunning sequined bodysuit, captivating the audience's attention as she kicked off her performance with the first single from her upcoming album New Album - Lost Island - I'm excited to announce the release of my latest Trance music album, "Lost Island". It's now available on various digital outlets worldwide, so you can easily find it by doing a quick search on any search engine! But if you're short on time and don't want to go through the hassle of searching, browsing, and… , "Hold It Against Me." Throughout the song, Britney was surrounded by muscular male dancers who provided immense support. Every effort was made to make the pop superstar look appealing and glamorous, including the use of wind machines that blew back her hair, creating a sexy and polished look on stage.
Once the audience was captivated by Britney's beauty and her sexy dance routines, she followed up with "Big Fat Bass," a track produced by Black Eyed Peas' will.i.am. While her dancers were dressed in yellow outfits, Britney donned a skin-tight bodysuit. Her entrance on stage was from a speakerbox, showcasing her creativity An Artist Portrait (Part One) - This is a fantastic article written exclusively for my Weblog by Frank V. Cahoj. Please feel free to comment here or send him emails. He'll be happy of this. An Artist Portrait (Part One) My name is Frank Cahoj and I have been an artist since I was born. I can say this in confidence without… and sending the crowd into a frenzy. Her first song was more of a medley, featuring her past hits such as "Slave 4 U," "3," and "Gimme More," giving the audience multiple flavors in one go. She became so energized during the performance that she spontaneously climbed up on a speaker while dancing Trance Music - Free Flowing Electronica - Have you ever found yourself dancing in a club, utterly absorbed in the melody, feeling as if the trance music is flowing through you and guiding your body's movements? This is an experience I've had numerous times during carefree nights at local techno clubs I've often wondered which type of techno generates this unforgettable sensation… .
The theme for her upcoming track, "Till the World Ends," had a contemporary techno vibe, with LED lights flashing across the stage. Britney's black bodysuit was now adorned with red LED lights, and additional ladders and seductive male dancers swarmed the stage. She always enjoys performances of this nature, and this time was no different. She was beaming with a smile, and her fans were responding enthusiastically to her incredible dance moves.
Her choreographer had chosen flirtatious dance moves for the song, which were well received by the audience. To conclude her 25-minute show Cereal, a blend of old and new - Today we interview Jaques Smit, an incredible man. Just read all his current positions: Managing Director at MindNova Advertising Pty (Ltd), Marketing Director at Inland Kitesurfing Pty (Ltd), CEO at Avonstorm Entertainment, Producer at Avonstorm Pictures Pty (Ltd), Technical Director at Blo-Tant Pty (Ltd). Here is the interview and I initially ask about Cereal, his… at the club, the "Oops!… I Did It Again" singer climbed up one of the platforms using a ladder and performed her spinning dance move up there. The stage was illuminated by fireworks as Britney twirled her hair and continued her dance until the song ended.
If you're a big fan of Britney Spears but couldn't attend the show, there's no need to worry. MTV is expected to air the full show next week, with a small teaser on Tuesday, the same day Britney's album "Femme Fatale" hits stores across the US. It's also worth noting that MTV has dedicated its March 29 broadcast to Britney.
Manuel Marino is a seasoned Senior Producer, Music Composer, and Artist with over a decade of experience. He specializes in branded entertainment across various mediums, including video games, films, and advertising campaigns. With 20+ years as a game music composer, Manuel has worked on numerous platforms, creating diverse orchestral soundtracks. HIRE ME