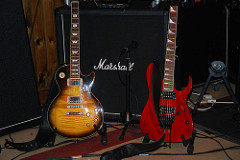 Photo by Red~Cyan
Guitar chord posters can be a helpful tool for referencing a list of all the essential chords you need to memorize. It can be frustrating to try and memorize them all, so purchasing a poster from your local music store with comprehensive chord charts for guitar would be a great idea.
When learning the guitar, you start with the basics, which include the simple chords from A to G and their minor variations. However, to add more depth and variety to your guitar playing, it's important to familiarize yourself with the various chord variations available on the instrument's six strings.
There are numerous books and reference materials available that can teach you different techniques to enhance your guitar skills and provide useful diagrams for executing chords. Since memorization and dedication are key attributes for improvement, it's essential to understand how these chords are constructed.
While it may be challenging to commit all the chords to memory, having a poster on your wall with chord charts can be a valuable resource. This way, you can easily refer to it whenever you are unsure about a particular chord.
Manuel Marino is a seasoned Senior Producer, Music Composer, and Artist with over a decade of experience. He specializes in branded entertainment across various mediums, including video games, films, and advertising campaigns. With 20+ years as a game music composer, Manuel has worked on numerous platforms, creating diverse orchestral soundtracks. HIRE ME