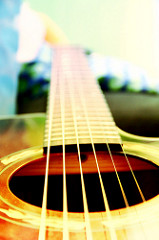 Photo by Kara Allyson
Practicing for extended hours may eventually reward the student with a solid understanding of the instrument. And if they are fortunate, after years of hard work, they may even become a masterful player. The guitar, in particular, is often seen as one of the more popular instruments to which individuals dedicate themselves. With visions of musical greatness in their minds, they devote themselves day and night to practicing the guitar in the hopes of someday becoming proficient.
Ultimately, you won't know if you can learn guitar by ear until you try. If you're interested in taking up the guitar and have a few specific songs that you'd love Artists Psychology - Here's an interesting exclusive article Roland d'Humières, 56 years old psycho-analyst from Aix en Provence (France) has written for our Weblog. I think it to be a very interesting writing about the artists psychology, or maybe "arts psychology", what's behind an artists mind. Artists Psychology Whatever is his/her Art, painting, music, dance, writing, or any… to learn to play, those who can play guitar by ear can mimic the notes they hear on their own instruments when they play the track on a CD. However, until you truly understand the sounds that each chord can produce, it's difficult to replicate the sounds you hear in your music on the strings of the guitar.
In some cases, it is possible to teach yourself to learn guitar by ear. Begin by familiarizing yourself with the sounds the strings produce on your guitar; really immerse yourself in it and listen to it in your mind Self-realization and meditation (yoga for the mind) - Peter Cajander allowed us to publish this part from his book Fragments of Reality. It talks about life from a personal perspective covering areas ranging from self-realization, meditation, stress, happiness, death, and everyday living. Peter is a writer, philosophical thinker, entrepreneur, strategy consultant, business executive, and author to name a few titles. He has been… and with your ears. Pay attention to how the sounds change as you change chords and start listening to the music on your CDs with an ear for those chord changes. Eventually, you'll begin to hear the chord changes in the songs that you've listened to repeatedly without ever realizing those chords before.
It's amazing how your ear changes once you start learning guitar; suddenly, you can make those necessary connections between the sound your guitar makes and the sound that the guitar makes in some of your favorite songs. Choose a section of the song and start experimenting with it on your guitar; keep trying until you can replicate the sound.
While playing music proficiently by ear may be an inherent talent Marketing and Music: Is Marketing Really So Powerful That Any Song Can Become Famous? Or Does Talent Still Matter? - Today let's dive into a topic that's been buzzing around a lot: the relationship between marketing and music. We all know that marketing plays a massive role in the music industry, but does it actually hold the power to make any track a hit? Or does talent still stand a chance? First off, let's address… , you can still learn guitar by ear if you are dedicated and single-minded in your pursuit.
When playing any musical instrument, it's important to learn how to play the notes. If you want to play the guitar, you need to have a good understanding of the notes, particularly on the guitar's fretboard. Learn to play guitar notes today, and you too can conquer the guitar's fretboard.
Don't be intimidated by the fretboard. Even if it seems daunting to learn the notes, it shouldn't discourage you if you want to learn how to play the guitar.
Playing your first songs on the guitar becomes easier when you know the notes on the first guitar string. On this string, there are three notes – E, F (first fret), and G (third fret). The next string is B, C (first fret), and D (third fret). Now that you know the notes, you should practice playing them. Play these notes slowly and make sure to pay attention to playing the notes accurately.
You don't have to say all the notes out loud when practicing. You can do this silently in your mind and then play them gradually. Familiarize yourself with the notes and their names, and most importantly, their sounds. Know them by heart. You can start by playing simple melodies, such as nursery rhymes, to get a feel for playing notes on the guitar.
Manuel Marino is a seasoned Senior Producer, Music Composer, and Artist with over a decade of experience. He specializes in branded entertainment across various mediums, including video games, films, and advertising campaigns. With 20+ years as a game music composer, Manuel has worked on numerous platforms, creating diverse orchestral soundtracks. HIRE ME