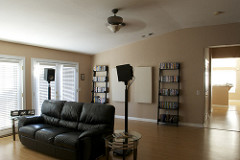 Photo by PascalSijen
Starting your venture into the world of home theater can be a daunting task, especially when you're bombarded with a plethora of information on how to install or operate your home theater system. It can be overwhelming for consumers of all experience levels and lead to frustration. To help alleviate this, we have compiled a list of common home theater misconceptions and have done our best to provide explanations that will not only help you understand them but also enhance your knowledge of home theaters more quickly.
Television Cereal, a blend of old and new - Today we interview Jaques Smit, an incredible man. Just read all his current positions: Managing Director at MindNova Advertising Pty (Ltd), Marketing Director at Inland Kitesurfing Pty (Ltd), CEO at Avonstorm Entertainment, Producer at Avonstorm Pictures Pty (Ltd), Technical Director at Blo-Tant Pty (Ltd). Here is the interview and I initially ask about Cereal, his… Refresh Rate:
As you explore the prices and specifications of various TVs, you may wonder what each point signifies and what difference it makes. It's easy to assume that a higher number automatically means better quality. However, when it comes to features like refresh rate, this …
...Read the rest.
"The Entire Home Theater Truth"