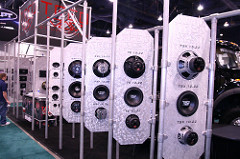 Photo by RightBrainPhotography
If you want to achieve excellent sound quality in your home, it is essential to find the best in-wall speakers. By owning wall speakers, you can experience optimal sound reproduction. However, there are several factors to consider before purchasing speakers for your home.
One of the key aspects of the best in-wall speakers is their sound output. You should look for speakers that produce high-quality sound and offer excellent audio performance. Additionally, consider the size of the room and the number of speakers you want to install in your home. Assessing the available space and planning the speaker placement accordingly is crucial.
Aesthetics The Allure of Aesthetics: How Beauty Shapes Our World - In a world increasingly dominated by data and algorithms, the influence of aesthetics often seems to be an afterthought. However, the role of beauty and design in our lives is far from trivial; it shapes our perceptions, triggers emotional responses, and plays a crucial role in societal norms. Aesthetic: More Than Skin Deep From the… also play a significant role when choosing in-wall speakers. Consider the overall design Carpet making - Here's a very interesting article on the Art of carpet making, written by …
...Read the rest.
"A Few Considerations Before Purchasing Home Speakers"