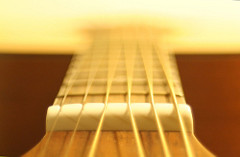 Photo by madmack66
Have you made the decision to embark on Guitar Lessons For Beginners? The next step is to familiarize yourself with the essential accessories you'll need. Allow me to provide you with a brief overview of the accessories you should consider.
A guitar capo is a clamp that you place on different frets of the guitar to change the pitch or key of the open strings. Each guitar fret represents a half step. By using a capo on the first fret, for example, all the open strings will sound half a step higher than usual. This makes transposing songs easier. If you come across a song with complex guitar chords that you prefer not to deal with, a capo allows you to change the key and pitch of the guitar, making those challenging chords easier to play.
A guitar pick, also known as a plectrum, is used on stringed instruments like the guitar. Picks are made from various materials such as rubber, plastic, wood Learning to Enjoy Bass Guitar - Do you enjoy bass guitar? A bass guitar is a four-stringed instrument that typically accompanies a lead guitar. Some bass guitars have additional strings, with 5 or 6 …
...Read the rest.
"Guitar Playing – All About The Fundamental Basic Guitar Equipment"