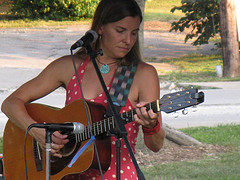 Photo by blueathena7
Throughout history, music has consistently held the power to influence society. During pivotal moments in history, it transcended mere rhythm, beat, and melody, assuming a deeper, often mystical role in connecting people. This transformative nature of music was particularly evident during the 1960s, when artists like Bob Dylan became more than just musicians crafting songs.
They emerged as social activists, using their music to shape public opinion and give voice to the thoughts and worldview of an entire generation. When I learned about the Martin Luther King Jr. Gospel Concert held in Newington recently, I couldn't help but contemplate the inherent transformative power of music.
The concept of organizing music concerts to raise awareness or funds for charitable causes is not new. We are all familiar with philanthropic mega-concerts like Live 8 and the notable figures behind them, such as Bono and Bob Geldolf. However, the MLK Jr. Gospel Concert in Newington was a complete departure from that model. It was an intimate gathering of approximately 1,150 people.
Local musicians performed alongside gospel music leaders, captivating the audience with soulful melodies that emanated from the stage. People were moved, clapping their hands and swaying to the faster, …
...Read the rest.
"A Gospel Concert with Soul"