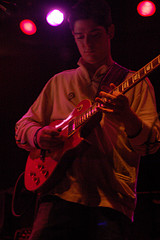 Photo by Chris Devers
For music enthusiasts seeking excitement and those interested in playing a guitar, considering a bass guitar Learning to Enjoy Bass Guitar - Do you enjoy bass guitar? A bass guitar is a four-stringed instrument that typically accompanies a lead guitar. Some bass guitars have additional strings, with 5 or 6 strings in total. Bass guitars produce lower tones, and an electric bass guitar is connected to an amplifier for enhanced sound. When learning to play the bass… is highly recommended. This instrument offers a thrilling musical experience and will be enjoyed both when listening to and playing it.
You can easily purchase a bass guitar from your local music store, choosing one that suits your preferences. Playing a bass guitar provides a powerful and pulsating music experience that you will love Artists Psychology - Here's an interesting exclusive article Roland d'Humières, 56 years old psycho-analyst from Aix en Provence (France) has written for our Weblog. I think it to be a very interesting writing about the artists psychology, or maybe "arts psychology", what's behind an artists mind. Artists Psychology Whatever is his/her Art, painting, music, dance, writing, or any… .
To play this instrument, you use your fingers and thumb in a precise manner, following the recommended techniques. The bass guitar features a long neck that offers excellent support to the artist An Artist Portrait (Part One) - This is a fantastic article written exclusively for my Weblog by Frank V. Cahoj. Please feel free to comment here or send him emails. He'll be happy of this. An Artist Portrait (Part One) My name is Frank Cahoj and I have been an artist since I was born. I can say this in confidence without… , enabling them to play music in a superior way. Frets are essential components as they introduce bass into the music, captivating the listener.
There are various versions of the bass guitar, but the electronic New Album - Lost Island - I'm excited to announce the release of my latest Trance music album, "Lost Island". It's now available on various digital outlets worldwide, so you can easily find it by doing a quick search on any search engine! But if you're short on time and don't want to go through the hassle of searching, browsing, and… adaptation is the most popular among consumers worldwide. In the past, slapping techniques were used to create music on the guitar. The artist would forcefully pluck the strings, producing a sound when they hit the wood on the rebound. This technique had a great impact on the listener and enhanced the audience's experience.
Proper maintenance is crucial to prevent any damage to the instrument and ensure you can perform at your best. The bass guitar is similar in shape and size to an electric guitar How to Buy a Guitar - The guitar is known for its dynamic and unique sound, making it a popular instrument in various genres of music. Whether you're a beginner or someone with a growing passion for guitar playing, here are some top tips for buying a guitar: Seek out advice. Start by seeking guidance from someone you know who has… but has a slightly longer and larger neck with an extended scale.
The bass guitar was initially developed by Paul Tutmarc in Washington, D.C. In modern times, as people confidently embrace the digital age, many companies are offering electronic bass guitars that have revolutionized the music scene.
It is well-known that numerous companies provide a wide range of options in this regard. There are different menu settings available that allow you to adjust the bass intensity according to your needs.
Looking back, it has been a great experience for consumers who have been introduced to a plethora of features that have made life easier for musicians and provided opportunities for experimentation.
You can easily purchase this beautiful musical instrument in various colors, shapes, and sizes from your local store. Therefore, a bass guitar is the ultimate solution for all your music needs.
Manuel Marino is a seasoned Senior Producer, Music Composer, and Artist with over a decade of experience. He specializes in branded entertainment across various mediums, including video games, films, and advertising campaigns. With 20+ years as a game music composer, Manuel has worked on numerous platforms, creating diverse orchestral soundtracks. HIRE ME