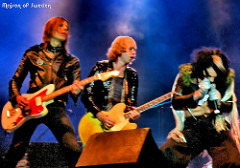 Photo by Majsan of Sweden
Some individuals believe that if you want to change the world, you shouldn't become a bass player; you should pursue something more challenging and stimulating, like working at the Post Office. But does this misconception accurately depict bass players? Let's reconsider our habitual perception of bass guitarists as necessary but unexciting members of a band, similar to accountants. While we recognize their valuable contribution of providing bass lines and covering the tab for drinks, do they truly engage in anything creatively significant? This brief compilation of notable bass players will help you discover that this seemingly self-effacing member of the music group can actually be a creative powerhouse.
Let's start with the leather jacket-clad yet incredibly feminine individual. A singer and bass player who achieved numerous hits in Australia and Europe during the early seventies, her fame in the USA originated from her portrayal of Leather in Happy Days. John pioneered the use of the electric bass Learning to Enjoy Bass Guitar - Do you enjoy bass guitar? A bass guitar is a four-stringed instrument that typically accompanies a lead guitar. Some bass guitars have additional strings, with 5 or 6 strings in total. Bass guitars produce lower tones, and an electric bass guitar is connected to an amplifier for enhanced sound. When learning to play the bass… guitar as a solo instrument, and his aggressive approach to playing influenced other bassists.
Flea of The Red Hot Chili Peppers impressed many musicians with his dynamic popping and slapping technique, which was initially introduced by Larry Graham of Sly And The Family Stone. Flea's innovative use of effects pedals has also influenced several bass players.
Jack Bruce composed most of Cream's hit songs. Among his various accomplishments, he constantly clashed with Cream's drummer, Ginger Baker, and successfully underwent a liver transplant.
Greg Lake is another artist An Artist Portrait (Part One) - This is a fantastic article written exclusively for my Weblog by Frank V. Cahoj. Please feel free to comment here or send him emails. He'll be happy of this. An Artist Portrait (Part One) My name is Frank Cahoj and I have been an artist since I was born. I can say this in confidence without… from the early seventies who collaborated with many innovators during the glam rock A Finnish music story - Musician Matti Mattila wrote his story for us, a Finnish music story! Please read also his Finnish blog and check his page at LinkedIn. I named this article "A Finnish music story" because through Matti words we can know an exclusive tale about late 70's and 80's of Finnish music. Of course the personal thoughts… era. Lake is best known for his vocals, bass, and guitar work with Emerson, Lake and Palmer.
Rob Bailey is a bassist who plays with power and aggression. His bass playing is a crucial element in AC/DC's music.
Benny, a Dutch musician What Is A Musician? - For some individuals, the role of a musician may be difficult to comprehend. They may struggle to understand: 1 - the nature of a musician's talent or job, 2 - why musicians work around the clock, and 3 - the concept of a fanbase and the boundaries musicians set with fans. Let's delve into each… who attended university in Hawaii, is admired for his unique and individualistic style of playing. He has worked with Barney, Sheila E, Huey Lewis, and Miles Davis. He has also released an album New Album - Lost Island - I'm excited to announce the release of my latest Trance music album, "Lost Island". It's now available on various digital outlets worldwide, so you can easily find it by doing a quick search on any search engine! But if you're short on time and don't want to go through the hassle of searching, browsing, and… featuring Carlos Santana. Talk about diversity!
Paul McCartney played bass for the Beatles. Many bass players claim he is exceptionally talented, and he changed the world with his heartfelt song lyrics.
Considered by some as the king of bass players, Stanley Clarke employs a variation of the pop and slap technique to create highly innovative bass guitar music. His 1976 album, School Days, is hailed by numerous critics as one of the greatest bass albums ever.
A true bass virtuoso, Billy has been voted "Best Rock Bass Player" by readers of Guitar Player Magazine five times. Why a "bass lead guitar player"? Because Billy plays bass as if he were playing a lead guitar.
So, if you are not familiar with bass guitar players, I hope this article has sparked your interest. Why not spend your next rainy Sunday exploring some of their work?
Manuel Marino is a seasoned Senior Producer, Music Composer, and Artist with over a decade of experience. He specializes in branded entertainment across various mediums, including video games, films, and advertising campaigns. With 20+ years as a game music composer, Manuel has worked on numerous platforms, creating diverse orchestral soundtracks. HIRE ME