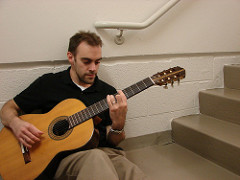 Photo by Carl_C
With the increasing popularity of rock music A Finnish music story - Musician Matti Mattila wrote his story for us, a Finnish music story! Please read also his Finnish blog and check his page at LinkedIn. I named this article "A Finnish music story" because through Matti words we can know an exclusive tale about late 70's and 80's of Finnish music. Of course the personal thoughts… in recent years, learning to play the guitar has become highly appealing to many people. While there are plenty of teenagers dreaming of becoming rock stars, there are also those who simply want to learn for the love Artists Psychology - Here's an interesting exclusive article Roland d'Humières, 56 years old psycho-analyst from Aix en Provence (France) has written for our Weblog. I think it to be a very interesting writing about the artists psychology, or maybe "arts psychology", what's behind an artists mind. Artists Psychology Whatever is his/her Art, painting, music, dance, writing, or any… of it. However, many struggle to find the right way to learn guitar and, after a few unsuccessful attempts, they eventually give up.
Different individuals have different learning needs. Additionally, we have varying resources, jobs, errands to run, and schedules. If you haven't reached the level you desire, it may be because you haven't found the right method to learn guitar yet. There are several ways to learn how to play the guitar. Here are a few of them.
There are thousands of theory books available that teach you how to play the guitar. Some of them are excellent and provide all the information you need. Books are a cost-effective and convenient method to learn guitar. Unfortunately, experience shows that they don't work for everyone. However, if you're a patient individual, a theory book may be the easiest way to learn guitar.
Video guitar lessons are available on DVDs, video tapes, and online stores. There are also some free video lessons available. Video lessons are more dynamic and have a better chance of keeping you focused. They offer the advantage of allowing you to practice at home whenever you find the time. However, the drawback is that you don't benefit from the personal attention and valuable feedback that a teacher can provide.
If you are willing to invest a significant amount of time and money, private lessons are undoubtedly the best way to learn guitar. A good teacher can design Carpet making - Here's a very interesting article on the Art of carpet making, written by Alhan Keser. Alhan is in in charge of communications for Tip Top Design, a company that specializes in interior design with oriental rugs. He has lived in Turkey and France, working as a freelance journalist and documentary maker. Carpet making The story… a customized training program to suit your learning style and provide individualized attention and positive feedback to keep you motivated. Additionally, they can quickly identify and correct your mistakes.
Learning the guitar by ear can be a lot of fun, especially if you have some musical talent Marketing and Music: Is Marketing Really So Powerful That Any Song Can Become Famous? Or Does Talent Still Matter? - Today let's dive into a topic that's been buzzing around a lot: the relationship between marketing and music. We all know that marketing plays a massive role in the music industry, but does it actually hold the power to make any track a hit? Or does talent still stand a chance? First off, let's address… . With the help of modern slowing down technology, it's much easier now than it was for previous generations.
Keep in mind Self-realization and meditation (yoga for the mind) - Peter Cajander allowed us to publish this part from his book Fragments of Reality. It talks about life from a personal perspective covering areas ranging from self-realization, meditation, stress, happiness, death, and everyday living. Peter is a writer, philosophical thinker, entrepreneur, strategy consultant, business executive, and author to name a few titles. He has been… that playing the guitar should be enjoyable. If you find it difficult or stressful, your learning approach may have a lot to do with it. Sometimes, you may need to try different learning methods before finding the one that works best for you. However, if you want to play the guitar like a professional and have the time and resources, taking private lessons is probably the way to go.
Manuel Marino is a seasoned Senior Producer, Music Composer, and Artist with over a decade of experience. He specializes in branded entertainment across various mediums, including video games, films, and advertising campaigns. With 20+ years as a game music composer, Manuel has worked on numerous platforms, creating diverse orchestral soundtracks. HIRE ME