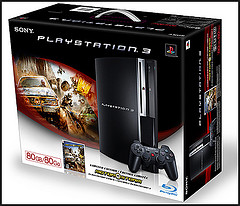 Photo by Dekuwa
With its extensive range of wireless and Bluetooth capabilities, the PS3 80GB offers gamers a reliable system that can be played for hours without overheating. It comes equipped with built-in wireless connectivity and automatic software updates, ensuring smooth gameplay and the ability to play DVDs in 1080p resolution.
This gaming system is a versatile powerhouse. When connected to the internet, you can store data, surf the web, and engage in online gaming for as long as you want. It can do almost anything you ask of it, except take out the garbage and wash the dishes. With 80GB of storage space, you can easily store your photos, videos, and music on the hard drive, allowing you to accumulate a vast digital media library in no time.
Let's take a closer look at what the PS3 80GB has to offer:
If you enjoy karaoke, you can use Singstar and Karaoke Revolution games Darklands, a Classic RPG - I'll talk about Darklands, a Classic RPG in a moment. April is an excellent month to reflect on how the year is going and whether we have achieved all or some of the goals we set for ourselves (Read - Overcoming
…
...Read the rest.
"PS3 80GB Review"